on 90.5 FM WVBU Lewisburg
Bucknell's Radio Station
Zharth's Classic Rock
Celebrating Peace, Love, & Music through The Golden Age of Rock 'N' Roll.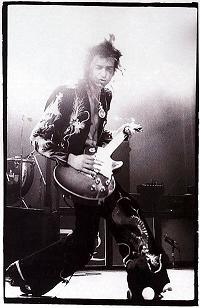 Featuring: electric guitar gods, improvised rock n roll jams, extended drum solos, rumbling bass riffs, and tons of high-energy blues covers!
Tune in to hear the best tracks from the best bands from the best era of rock n roll - the 60's and 70's. From the groovy San Francisco scene, to the original British invasion, and everything rock n roll in between.
Featured artists: Led Zeppelin, Pink Floyd, Jimi Hendrix, The Doors, Jefferson Airplane, Neil Young, Eric Clapton, The Rolling Stones, Deep Purple, Janis Joplin, The Who, Yes, The Yardbirds, Ten Years After, Robin Trower, Johnny Winter, and tons of great classic rock they don't play on corporate radio stations!
Requests are encouraged! Contact me at the station by phone (570-577-3489), AOL Instant Messenger (screenname: WVBU), or come down to the basement of Roberts Hall where the studio is located.
Next show's theme ():
So tune in to 90.5 FM for classic rock!
~zharth
Classic Rock is: AC/DC, Aerosmith, Alice Cooper, The Allman Brothers Band, America, The Animals, Bachman-Turner Overdrive, Bad Company, The Beatles, Billy Idol, Billy Joel, Black Sabbath, Blue Oyster Cult, Bob Seger, Boston, Bruce Springsteen, Buffalo Springfield, The Cars, Charlie Daniels Band, Cheap Trick, Cream, Creedence Clearwater Revival (CCR), Crosby Stills & Nash (CSN), Crosby Stills Nash & Young (CSNY), David Bowie, David Gilmour, Deep Purple, Def Leppard, Derek and the Dominos, Dire Straits, Donnie Iris, The Doobie Brothers, The Doors, The Eagles, Edgar Winter Group, Electric Light Orchestra (ELO), Elton John, Elvin Bishop, Emerson Lake & Palmer (ELP), Eric Clapton, Fleetwood Mac, Foghat, Foreigner, Golden Earring, Grand Funk Railroad, The Grateful Dead, The Guess Who, Heart, Humble Pie, Iron Butterfly, J. Geils Band, Jackson Browne, The James Gang, Janis Joplin, Jefferson Airplane, Jefferson Starship, Jethro Tull, Jimi Hendrix, Joe Cocker, Joe Walsh, John Lennon, John Mellencamp, Johnny Winter, Journey, Kansas, The Kinks, Kiss, Led Zeppelin, Lou Reed, Lynyrd Skynyrd, Marshall Tucker Band, Molly Hatchet, The Moody Blues, Mott The Hoople, Mountain, Neil Young, The Outlaws, Peter Frampton, Pete Townshend, Pink Floyd, The Police, Procul Harum, Queen, REO Speedwagon, Robert Plant, Robin Trower, Rod Stewart, The Rolling Stones, Rush, Santana, The Scorpions, Stealers Wheel, Steely Dan, Stephen Stills, Steppenwolf, Steve Miller Band, Stevie Ray Vaughan, Styx, Supertramp, T Rex, Talking Heads, Ted Nugent, Ten Years After, Thin Lizzy, Tom Petty & The Heartbreakers, Traffic, Triumph, U2, Uriah Heap, Van Halen, Van Morrison, The Who, Yes, ZZ Top, and so many more!!!