YOU ARE HERE: zharth.tenjou.net / My Concerts / Van Halen (6/29/04)
---
Van Halen with opening act Silvertide
Tuesday, June 29, 2004
Post-Gazette Pavilion, Burgettstown, PA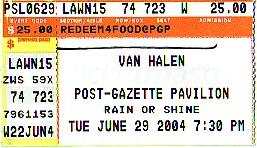 ---
Setlist:
Silvertide
1. ???
2. Mary Jane
3. ???
4. Blue Jeans
5. Ain't Comin' Home

Van Halen
1. Jump
2. Runaround
3. Humans Being
4. Up For Breakfast
5. Bass Solo
6. Somebody Get Me A Doctor
7. Poundcake
8. It's About Time
9. Drum Solo
10. Top Of The World
11. Unchained
12. Why Can't This Be Love

Acoustic Set
13. Eagles Fly
14. Deeper Kinda Love

15. The Seventh Seal
16. Best Of Both Worlds
17. Guitar Solo into Eruption
18. Dreams
19. Ain't Talkin' 'Bout Love
20. Right Now

1st Encore
21. You Really Got Me
22. Panama

2nd Encore
23. When It's Love
---
My Concert Review
(6/29/04) I came to see Silvertide, but I stayed for Van Halen. In all seriousness, the reason I came to the concert was to see Silvertide perform live, due to the buzz I had heard about them from some buddies on a Led Zeppelin message board I used to frequent, and having checked out a couple of their songs online, I knew I could expect an awesome performance from them.

Their debut album was supposed to be released a couple weeks before the concert, but it was delayed till late September, so I went in unfamiliar with Silvertide's material. But that didn't make a difference. They opened with a rocker, and followed that with Mary Jane, the one song of theirs I could recognize. Then the next song was introduced (by vocalist Walt Lafty) as a "fucking rock song", which indeed it was. There was a nice little drum solo (by drummer Kevin Frank) during which the rest of the band left the stage. Upon return, the guitarist (lead guitarist Nick Perri) had removed his shirt, revealing what appeared to be (from my distant viewpoint) a huge star tattooed on his chest. My attention was also fixated on the apparently homemade bell-bottoms he wore. Very cool.

The details may not be accurate, but I remember Silvertide introducing the song Blue Jeans, which I had heard was a good one from a review of a previous performance. At the end or after that one there was a really sweet guitar solo by Nick Perri, then they went into Ain't Coming Home, their closer. It's an awesome song. Singer Walt Lafty walked into the audience during the song and asked if any of us liked to have fun, and for those of us who do, he asked us to stand up and clap to the beat. You can bet I was standing and clapping. Then he asked us to help out with the chorus, "I ain't coming home." It was a totally rocking experience.

The band had an incredible amount of energy, and they were bouncing all around the stage, but what's more important, they did it while playing awesome rocking music. I bought the album sampler from the vendor at the concert, featuring two songs - Ain't Coming Home and Mary Jane - and I cannot wait to pick up the album as soon as it hits shelves this September. (By the way, Silvertide also includes Mark Melchiorre Jr. on rhythm guitar and Brian Weaver on bass).

Having seen what I had come to see, the Van Halen performance was just icing on the cake, so to speak. But you know how good that icing can be. I couldn't write up a setlist, since about half the songs they played I didn't recognize (never been a huge Van Halen fan - although that may have just changed tonight), but hopefully I'll find one someone else wrote up so I can post it here.

They opened with Jump, one of the songs I recognized, and then did a few I didn't recognize (including one where Eddie Van Halen played the opening on his guitar with an electric drill - amazing). There were some good ones in there, though, like the one with the chorus 'Shine on' and some others. Sammy Hagar kept insisting that the "Surf's up!" and that we were on the beach. He later mentioned how much he enjoyed the outside arena. At one point, Sammy Hagar took up a guitar and did a song from when he first joined Van Halen. I hadn't heard it before, but I really enjoyed it.

The next thing I remember clearly was the awesome guitar solo. At the end of one of the songs, Eddie Van Halen did a guitar solo. And then he kind of continued the guitar solo after the song ended. And then he kept on soloing while the rest of the band left the stage. I have never in the past considered Eddie Van Halen to be one of the greatest guitarists of all time, as I know many people do, but after tonight, I can at least understand why people say that. The guitar solo was totally awesome. At one point it sounded kind of like a bow solo a la Jimmy Page. At another point Eddie was playing with the knobs on his guitar and getting sounds that reminded me of Pink Floyd's epic song Echoes. Eddie took his 'tapping' technique to heights I had never dreamed of, and I must say it was most impressive. At one point he stopped and asked the audience 'How long do you want me to go?' We cheered him on and he kept going. Eventually, Eddie erupted into Eruption, and it just rocked hardcore.

The next moment of particular importance was when Eddie ripped into Ain't Talkin' 'Bout Love, one of my favorite songs from Van Halen's debut album from back in 1977. It was great, but it was even greater when they started the next song, the one song I really wanted to hear from Van Halen - Right Now. Such a great song. And it was so good live. The projection screens had the whole "Right Now..." captions going on and it was just so great. I'll admit I actually got quite emotional hearing that song live. And it felt so good.

But that was their last song of the night. Until they returned for an encore! It definitely seemed like the boys were having a good time here in Pittsburgh. They played You Really Got Me and Panama, both songs I knew well and really enjoyed. Then it was over. Well, not yet. Van Halen came back out to do one more song, another one I didn't know, but enjoyed nonetheless. From all the way back at the top of the hill, it looked like Eddie picked a couple people out of the audience at the end of the song and they followed the band backstage. Cool. And that was really the end. I had a really great time, and really enjoyed Van Halen's performance. I can honestly say that I am a greater fan of the band now, and also of Eddie Van Halen as a guitarist.
---