YOU ARE HERE: zharth.tenjou.net / My Concerts / Tom Petty & The Heartbreakers (6/15/05)
---
Tom Petty & The Heartbreakers
with special guest The Black Crowes
Wednesday, June 15, 2005
Post-Gazette Pavilion, Burgettstown, PA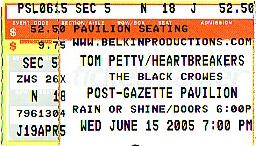 ---
Setlist:
The Black Crowes
1. (Only) Halfway To Everywhere
2. Sting Me
3. Girl From A Pawnshop
4. Soul Singing
5. Sometimes Salvation
6. Thorn In My Pride
7. High Head Blues
8. Twice As Hard
9. Remedy

Tom Petty & The Heartbreakers
1. Listen To Her Heart
2. You Don't Know How It Feels
3. What Are You Doin' In My Life
4. Free Fallin'
5. Turn This Car Around
6. Don't Do Me Like That
7. Mary Jane's Last Dance
8. Baby Please Don't Go
9. Handle With Care
10. Crawlin' Back To You
11. I Won't Back Down
12. It'll All Work Out
13. Melinda
14. Learnin' To Fly
15. Don't Come Around Here No More
16. Refugee
17. Runnin' Down A Dream

Encore
18. You Wreck Me
19. Rainy Day Women
20. American Girl
---
My Concert Review
(6/16/05) This concert was almost like a double-header with The Black Crowes performing a hearty opening set. I had never gotten into The Black Crowes previously, so I was pretty much a newbie to the band before the show, only familiar with their hit songs Hard To Handle and She Talks To Angels, neither of which were played that night, but that's okay. I recognized the band when they filed onto the stage, though, not that I knew what they would look like. But with their long hair and rock swagger it was clear who was who. I also remember seeing two women on the far right of the stage during the show, one of them holding a baby with large headphones on. I didn't think much of it at the time, but I've read that The Black Crowes' vocalist Chris Robinson is married to Kate Hudson (remember Almost Famous?), and that she's been hanging out off to the side of The Black Crowes performances lately. I wonder if one of those women was her?

I do not recall previously hearing any of the songs The Black Crowes played that night, so for me it was a matter of whether or not the band could convince me with their performance and talent, not whether they would play a song I recognized and could sing along with. And in my opinion, they succeeded. The first few songs were good but not exceptional, though the chorus of the first song managed to capture my attention. But when the band began to play Soul Singing, I started paying more attention. I began to notice the interplay between the two guitarists, who both took turns soloing and riffing hard. There was a very interesting jam section that involved a wah pedal and some really cool guitar experimentation that got me thinking of vague comparisons to Led Zeppelin's extended jams. The next few songs, as well as their closer, I really enjoyed. I was impressed by their ability to play a song, and give it lots of energy and dynamics, putting different instruments in at different times, and it really got me into the music. I recall the vocalist, Chris Robinson, announcing this section of the show as "freak'n'roll", and it was a lot of fun. I'm currently on a bit of a Black Crowes buzz at the moment, downloading some live bootlegs and checking out their material. They are a band I would love to see again live, and I am surprised by the comments of some critics who state that they are not a good live band. It was their live performance, and not their cds or radio singles, that got me hooked.

Tom Petty's set satisfied me in a totally different way than The Black Crowes' set did. The Black Crowes let me enjoy over an hour of competent musicianship and high energy freak'n'roll. Tom Petty's set was chock full of popular hits and for once I could sing along to a good portion of the songs that were played. Even before the band hit the stage, I was intrigued by the odd shaped screens at the back of the stage. It looked like a geometry classroom had exploded, but it made for a very cool effect when they put images of various members of the band up on those screens during the show. Tom Petty walked out, followed by The Heartbreakers, and they opened their set with the classic Listen To Her Heart. Following this was the excellent You Don't Know How It Feels, a great song that doesn't show up on the popular Greatest Hits package. Then Petty did a number I didn't recognize, What Are You Doin' In My Life, followed by an endearing Free Fallin' which the audience joined in on, a phenomenon that occured frequently during the night.

At some point early in the show, Tom Petty asked to put the lights on the audience, so he could see everybody. Looking back into the field behind the seats, I, too, was surprised and impressed by the sea of bodies. Tom Petty raised his arms to the audience quite a few times that night, and each time he was met with thunderous applause. Tom Petty was clearly having a good time, and so was the audience.

After Free Fallin', Tom Petty mentioned a new album that would be released later in the year, and took the time to test out one of the new songs, Turn This Car Around. It was a good song, but to my ears it actually sounded like a lot of Petty's other songs. After that experiment, the crowd was rewarded with Don't Do Me Like That, and then one of the most anticipated songs, at least within my carpool, Mary Jane's Last Dance. I really liked the green jacket Petty wore for the first half of the show, and for Mary Jane, he put on a really cool black hat to top it off. The song was great, but I don't think the vocals had quite the energy of the studio version, unfortunately. Petty did add some improvisation onto the guitar solo at the very end, though, which was fun.

Then, the stage turned red, and the band began playing a very familiar riff, which I recognized from an Aerosmith song, although it was really an older blues song that Aerosmith recently covered for their Honkin' on Bobo album. The song was Baby Please Don't Go, and Tom Petty and the Heartbreakers had some fun with it. They simulated a train whistle with a convincing mix of harmonica and slide guitar, and Tom Petty inserted a little story about watching the train take his girl away. It was a lot of fun.

At this point, Tom Petty introduced The Heartbreakers, and then he told us that he thought it would be funny if he played a Travelin' Wilburys song (which is a supergroup he was involved with in the 80's along with Roy Orbison, Bob Dylan, George Harrison, and Jeff Lynne), so they played Handle With Care. Afterward, Petty introduced the next song as one of his personal favorites, slightly lesser known, off of the Wildflowers album - the song was Crawling Back To You. Then the crowd joined in again for I Won't Back Down, and following that was It'll All Work Out. Then we heard a song that Petty mentioned shows up on the DVD that's in stores (Soundstage, apparently). The song was Melinda, and I enjoyed it. The song featured an impressive piano solo.

Gettin' towards the end of the night, the hits started comin' out in full swing. Learnin' To Fly featured a nice interplay between Petty and the audience. Petty let the audience sing the chorus while he added some lines in between. It was a real fun effect. The last three songs were real high energy, and the guitar solos came out in full swing. Don't Come Around Here No More was cool, and slightly extended, although not as much as other reviews might have you believe. Refugee was great, and it had great guitar - it's still one of my favorites from Tom Petty and the Heartbreakers. The set closed with Runnin' Down A Dream, with just the energy you would expect knowing the song, and incredible guitar energy up to the very end.

The band grouped together center stage, then walked off, leaving the audience cheering for quite awhile. I looked back toward the field and it was glowing with lighters and colorful cell phones, brilliant as the stars in the nighttime sky, and even more densely packed than the jewels in a cavernous rock face. Finally, the band came back on stage and hit us again with You Wreck Me, followed by a surprising and fun cover of Bob Dylan's Rainy Day Women. The final number of the night, a song that many people were waiting for - American Girl. Petty started the song with a little story of a telephone call, and mentioned our city, Pittsburgh, Pennsylvania, before the band knocked the audience over with the opening riff of the song. One final sing-along, and then it was over.

A great night. Great fun. Got to hear a lot of hits, a lot of songs that I really like. And it also looks like I've been turned onto another great rock band - this time, one that's a little more modern!
---