YOU ARE HERE: zharth.tenjou.net / My Concerts / Silvertide (6/23/05)
---
Silvertide
Thursday, June 23, 2005
The Cellar, Struthers, OH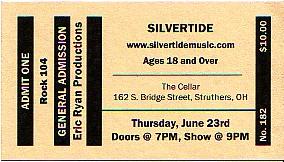 ---
Setlist:
Silvertide
1. S.F.C.
2. Mary Jayne
3. California Rain
4. Blue Jeans
5. Devil's Daughter
6. You Want It All
7. Beware
8. Heartstrong
9. Circles/To See Where I Hide
10. Foxhole J.C.
11. Nothing Stays
12. Ain't Comin' Home

Encore
13. Show and Tell
---
My Concert Review
(6/24/05)

Silvertide is:
Walt Lafty on vocals
Nick Perri on lead guitar
Mark Melchiorre, Jr. on rhythm guitar
Brian Weaver on bass
Kevin Frank on drums

On June 23, 2005, Silvertide performed at The Cellar in Struthers, Ohio. They filmed their performance that night in anticipation of releasing a live DVD. Many Silvertide fans flocked to The Cellar that night to show the band their support, and to hopefully themselves appear in this live DVD. I was one of those fans.

I arrived at The Cellar just before people started gathering by the doors, got my ticket from South Bridge Billiards upstairs, and then waited for the doors to open, which took awhile. While I was standing outside in front of the doors, and before it became a crowd, some members of the band were walking in and out. At one point, Walt Lafty walked out, and I recognized him immediately. He took one look at me, and smiled, possibly because of the radical outfit I was wearing, and I smiled right back. He motioned to the four girls standing by the door, likely friends of the band, and mentioned something about beer and getting the party started. It was great.

When the doors finally opened, we filed into The Cellar, which was a pretty cool cave-like bar, with the stage at the far end. I headed straight toward the stage and grabbed a spot close to the front, and managed to stay within two to three people behind the front line for the whole evening. Those of us who were anxious to get this party started stood waiting for what seemed like an eternity before the opening act took the stage. Everybody was pretty friendly, though, and it wasn't hard to make friends with the people surrounding you.

The opener was a band called Adelyn, that I had never heard of. Just before they started, a few guys in the crowd were shouting 'free beer', and one of them got one from the lead singer of Adelyn. They played a few songs, I was less than impressed. They had a lot of energy, but they seemed to just be playing too hard, too loud - a problem that metal bands have. The guitarist had one good solo, and it was good, but a lot of it was just really loud chords and stuff, although he also lent a few impressive shouts, but not the kind I like to hear a lot in music.

They got the crowd a little bit riled, but everyone was clearly waiting for Silvertide to take the stage, and we were all anxious to get the cameras rolling. After a relatively brief setup period, Silvertide's spokesman took the mic and primed us for being on film. We practiced our low, medium, and high applause, although I think we only used the high applause during the course of the actual show. And since we were being filmed, we were encouraged to go fucking crazy.

The band entered, and Walt Lafty began singing the chorus, "America, fuck yeah", with some help from the crowd. This led into their opening number, So Fucking Crazy. During the course of the show, all of the tracks from Silvertide's album, Show and Tell, were performed, with the addition of two other songs. One was Beware from their American Excess EP, a song that didn't make it onto the album. The other was Show and Tell, the song that inspired the album's title but curiously didn't make it onto the album.

Quite a few times, Walt Lafty leaned out over the audience and gave the crowd a chance to sing the choruses, and I myself was pretty close to that mic a couple times. Nick Perri even played a guitar solo with his guitar held right up to the front of the audience, and it was right there in front of me, just outside of my reach. Nick and Walt especially had a lot of energy during the show, and really showed the great chemistry you would expect from the frontmen of a really rocking band. At one point, Nick started playing some mad slide guitar with the rings on his fingers!

Silvertide closed their set with the great I Ain't Comin' Home. And boy, they really brought it home. Not only did Walt surf the crowd, for which I had the chance to help hold him up momentarily, but he actually climbed up onto the metal divider between the stage and the audience, and climbed a little bit along the ceiling, and at one point he walked right out into the audience, right past me, to sing for a bit! The crowd was thrilled, and the band gave us an encore with Show and Tell, which is the one song they played that night that I don't have. It was great, with some excellent guitar. Toward the end of the song, Walt Lafty grabbed one of the cameras, and focused on each member of the band briefly, then scanned the Silvertide logo featured on the drum set before pointing the camera at himself as he belted out one of his wails, while one of the camera crew smoothly received the camera from Walt and continued with her business. It was a great end to a great show.

Silvertide really is a great band. They've got talent, and they understand the true spirit of rock and roll. They know how to rock, and why it makes people feel good. And that's just what they want to do, to feel good and make other people feel good, even if it takes a solid rhythm and driving beat, or a wild guitar lead and liberating vocals. They definitely seem more in their element playing in a bar than in a stadium or arena, although it helps that everyone there at the bar was there to see Silvertide (as opposed to their tours as opening acts for more popular bands). I'm really excited about this band, and I can't wait to hear more new material from these guys, and I really hope more people do catch on. I'm excited about seeing them live again some day, hopefully soon, but in the mean time, I'm really looking forward to this DVD. And the fact that I might very well be in it is out of this world!
---