YOU ARE HERE: zharth.tenjou.net / My Concerts / The Machine (10/08/05)
---
The Machine
Saturday, October 8, 2005
Pepsi Cola Roadhouse, Burgettstown, PA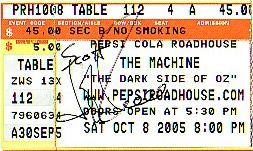 ---
Setlist:
Set 1 - Dark Side of Oz
1. Speak To Me
2. Breathe
3. On The Run
4. Time
5. The Great Gig in the Sky
6. Money
7. Us And Them
8. Any Colour You Like
9. Brain Damage
10. Eclipse

Set 2
11. Shine On You Crazy Diamond (Part 1)
12. Welcome To The Machine
13. Mother
14. Coming Back To Life
15. Hey You
16. Another Brick in the Wall, Parts 2 & 3
17. Goodbye Cruel World
18. Pigs on the Wing, Part 1
19. Pigs (Three Different Ones)
20. Wish You Were Here
21. Comfortably Numb

Encore
22. Run Like Hell
---
My Concert Review
(10/20/05) (transcribed from radio)

I saw The Machine, which is America's premier Pink Floyd cover band, and it was really cool. I saw them a couple of weekends ago, and they were doing a Dark Side of Oz show, which means they performed the entirety of the Dark Side of the Moon album, live, right there up on stage in front of us, while they had the movie The Wizard of Oz playing on large projector screens all around the Pepsi Roadhouse, where the show was. It was pretty interesting, getting the whole Dark Side of the Moon synched up to the Wizard of Oz thing. But it was really cool because it wasn't just listening to the album, you got to see these guys performing the album live, right there in front of you, and they were really good. They sounded exactly like the album, except a couple places they took some liberties. It was good, it was a really great show. On the Great Gig in the Sky for example, they didn't have a female vocalist like Pink Floyd did when they recorded the album, so the leader of the band, who was doing most of the lead guitar and vocal parts, he did a little vocal solo thing there, and it was actually pretty darn good, I enjoyed it. Actually, I was impressed by the vocal ability of the leader of the band. He was able to capture both Roger Waters and David Gilmour's vocal styles, and he really sounded like them on the different songs, and I thought that was very impressive that he could do that. So the Dark Side of the Oz set was really cool. It's great to see Dark Side of the Moon performed live. After that, they took a short break, and came back for a second set, where they just did a bunch of random classic songs from various albums.

They started that set off with Shine On You Crazy Diamond - the first half of that one, like off of the album Wish You Were Here. That was really cool to hear that song, it's just a really great song. After that song they went into Welcome to the Machine, which is a good song for that band to play, considering that they're called The Machine. Since that happens to also be the song that follows Shine On You Crazy Diamond on the album Wish You Were Here, for a moment I thought that they might actually play the entire album, which would have been cool, but that's not what they did.

After that they played a track from The Wall - Mother. That was a good one, not one of my favorite tracks from that album, but it was good. After that, the next song they played was the only song they played that night that's not from the four big albums (Dark Side Of The Moon, Wish You Were Here, Animals, and The Wall). This song they played was from The Division Bell, the last album that Pink Floyd put out, and the song was Coming Back To Life. That was a good one. There was some great guitar parts in that song, I liked it.

After that, the band went into a little mini-set from The Wall. They played a few songs off of that album. They did Hey You, which was great. It's one of my favorites off The Wall. They also did Another Brick in the Wall, Parts 2 and 3, which is the "we don't need no education" song that you all know from being played on the radio countless times. But it was good, and they threw in a little bit of Part 3 at the end of that, which is cool. I always wanted to hear a band do that, with that song, and that's what they did, and it was really enjoyable. They finished that little set with Goodbye Cruel World, which was an interesting choice.

After that, they went into a set from the album Animals, which is an awesome hard-rockin' album. They did the intro to that album, Pigs on the Wing Part 1, which is a nice short little piece. Then they went into Pigs (Three Different Ones), which is quite an epic - it's an angry Waters track, if you know what I mean. It was just fantastic. The band really performed well on that one. They had the whole talking guitar thing going on, and at the end, they featured their keyboardist with a keytar - it's kinda like a guitar, you wear it over your shoulders, but it's a keyboard, not strings, it's got keys - and so the keyboardist played a little solo on his keytar. It was really cool. It's a great song, and they played it well, and I'm glad I was able to hear that.

After that they played one of Pink Floyd's classic sing-alongs, Wish You Were Here. They finished off their set with Comfortably Numb, one of the greatest guitar solo songs of all time, and that was really good. I enjoyed that, and it sounded great. This band, they know how to play Pink Floyd just like Pink Floyd, and I'm really glad I was able to go out and see them. I had a lot of fun and I enjoyed it so much that I'm anxious to go out and see them again the next chance I get. Even if they were to play the exact same songs over again, I'd still go out and see them, because it was really good.

But they also played an encore. People were enjoying the show, and they were applauding at the end, and the band came back on and the lead vocalist/guitarist was coaxing the audience to stand up and shout out and clap, make some noise, get some energy into the room...

Actually, interesting little thing: before the show started, I was standing in the crowd with my friends, waiting for the show to start, and this guy walked up to us, and asked us a few questions. You see, we were standing right next to this roped off area - there was a rope in front of the stage. There were two types of tickets, the general admission tickets, and the tickets that got you seats. The seats were on the sides to the left and right of the stage, and the general admission standing room tickets were in front of the stage, but there was an area right in front of the stage that was roped off. So the general admission ticket people, which included me, we had to kinda stand back from the stage a little bit, behind the rope.

So I was standing with my friends there, right behind that rope, as close as I could get to the stage, and this guy came up to us. He looked a little confused. He asked us why this rope was here, you know, keeping the people from walking right up to the stage. We were like, well, I dunno, it separates the people with the cheaper tickets from the people with the more expensive tickets. So the guy went over and asked the bouncer that was standing separating the two sections, and he came back to us and told us that apparently the ropes were there because they wanted to keep the people from getting up close to the stage, because if everybody crowded around the stage, then the people with the expensive seats sitting down wouldn't be able to see very well. We thought that was a kinda stupid reason, but hey, that's the way it goes. The guy that was asking us the questions, he was telling us, he thought that was kind of a bummer 'cause he liked the people to come right up next to the stage. Then he told us to enjoy the show and he walked off. We later figured out that that was the leader of the band. We didn't know at the time - I had a little inkling, I could kind of tell for some reason, I don't know why - but when the band did get up on stage and start playing, we recognized him right away, he was the one in front. So that was cool, we got to meet him face to face.

And so, as I was saying earlier, the encore: they did Run Like Hell, and before they started, the lead singer/vocalist/guitarist that I was talking about, he managed to coax the audience to actually break down the rope barrier, and everyone came up and crowded around the stage. We had a fun time on that last song, which was Run Like Hell, and it was great. Then afterwards, after the show was over, everybody was still crowded around the stage, and the lead vocalist/guitarist I've been talking about, he was right there at the edge of the stage talking to people, and signing autographs and stuff, and just being really cool and friendly. I asked him a question on account of my little brother, who's a huge Pink Floyd fan. He likes especially the song The Nile Song, and he was hoping to hear that that night, unfortunately he didn't. But I asked them if they play that song, and they said yeah, so I suggested that they should play it the next time they come around to Pittsburgh, and I hope they do. Furthermore, my friend actually got his ticket autographed by the lead guitarist/vocalist, which is pretty cool, because my friend's got the same name that I do, and so he gave it to me, and now I have the ticket!

So, yeah, that's cool, I got an autographed ticket, and my friend got real interested in Pink Floyd. He never really listened to Pink Floyd before then, and so I consider that a victory on my account. If you ever get a chance to see The Machine, if you like Pink Floyd, I suggest you check them out. They're really good.
---