YOU ARE HERE: zharth.tenjou.net / My Concerts / Ten Years After (3/18/06)
---
Ten Years After
Saturday, March 18, 2006
Moondog's, Blawnox, PA

Bob, Darcy, zharth, Leo Lyons, Glenn, Ric Lee, Chick Churchill, Joe Gooch, Guitar Zack (behind Joe), Hypnotoad (Picture taken by Danny)
---
Setlist:

1. Working On The Road
2. King Of The Blues
3. Hear Me Calling
4. Good Morning Little Schoolgirl
5. Bad Blood
6. Big Black 45
7. When It All Falls Down
8. The Hobbit
9. Love Like A Man
10. I'd Love To Change The World
11. Time To Kill
12. I Can't Keep From Crying, Sometimes
13. I'm Going Home

1st Encore
14. Reasons Why
15. Choo Choo Moma

2nd Encore
16. 50,000 Miles Beneath My Brain
---
My Concert Review
(3/19/06) Wow, another incredible night! For the second time in the space of 4 days, I got to see the new Ten Years After perform! Since there were a lot of similarities musically between the two nights, I'll focus on the differences between the two experiences.

Moondog's apparently has a good reputation as a blues club in its area, but it's small - it's literally a bar with a tiny stage. The size of the main room was probably less than half the size of the B.B. King Blues Club & Grill in NYC where I saw TYA earlier. That being said, it was *very* intimate, and amazing that I could see such a huge band in such a small place! I watched the show from a bar stool, and I couldn't have been much more than 10 feet from the stage! It was packed, too. (In fact, I remember seeing one guy that I recognized from the Joe Bonamassa show that I was at a week earlier).

In addition to my dad and little brother, three of my dad's close friends also joined us for the show, all of them big fans of Ten Years After from the original days. So it was a fun and enjoyable experience, and the music was, of course, incredible!

The opening act was a three-piece band led by a 19-year old guitar virtuoso - Guitar Zack & No Slack - and by all accounts, Zack was a guitar maniac. Apparently he had recently won an award, I believe it was the Albert King award for most promising young guitarist. He definitely had a bit of a Jimi Hendrix thing goin' on. It was a very enjoyable performance with some wicked guitar antics. The tone of Zack's guitar, I want to say it sounded like a trash can, but I mean that in a good way - it was very raw and grungey and razor sharp, powerful. He also had very distinctive hair - light and fluffy, just sitting, almost floating, on top of his head. Great open for Ten Years After.

As for TYA, their setlist was the same as in NYC, so no surprises for me, but it was still incredible. Highlights for me were probably Good Morning Little Schoolgirl, Love Like A Man, I'd Love To Change The World, and I Can't Keep From Crying Sometimes, but by all means, every song was killer and outstanding. The band even did the same encore, but after that is where it got really interesting.

A man, who I understand was Moondog himself, got up on stage to say goodnight and thanks for coming (and to ask us to consider sticking around since the bar was open till 2, rather than stepping right back into reality so soon after such an experience) and that if we made enough noise the band might play another song. I screamed until my voice was hoarse, and clapped until my hands were burning, but I still didn't stop. Luckily, the rest of the bar was into it, too. I even tried to get a chant of "One More Song" started (which I picked up from My Shady Uncle Thomas shows), and to my surprise a few people picked it up! We must have been making noise for at *least* 5 solid minutes, but the band finally returned to the stage for one last song - which was awesome, because I haven't had many experiences with second or unplanned encores, so this was a real treat, and I feel really privileged to have experienced this rare occurence. The band played 50,000 Miles Beneath My Brain, which is just an incredible song, and everybody was ecstatic. This was supposedly TYA's last show in the US, and they were headed to Switzerland in the next few days (I soon found out), so I feel like I was part of something extra special, which was enhanced by the small intimate atmosphere of the venue.

After the show, we all stuck around and hung out with the band - Leo Lyons, Chick Churchill, Ric Lee, and the newcomer Joe Gooch. It was really cool getting to talk to the guys. They're all so down to earth and friendly, it's great! I told Joe he did a great job, and I mentioned my radio show to Ric (he said I should get the band to come on the show sometime, but I don't think he was being serious!). Best of all, the whole band got together with a bunch of us to pose for some pictures. It was totally awesome, and undoubtedly an experience I will never forget. I dare even say, it may have been my greatest concert experience to this day!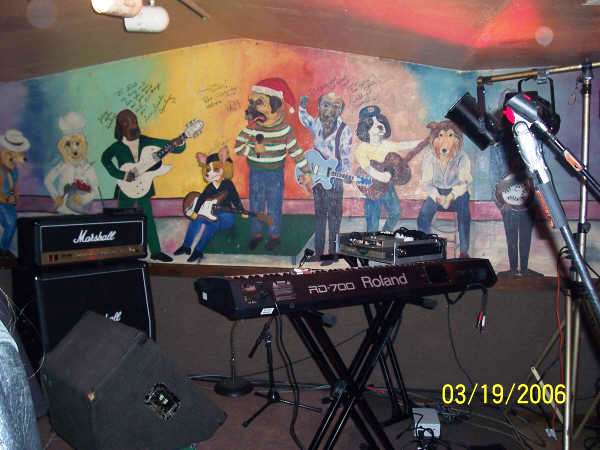 Moondog's
---