YOU ARE HERE: zharth.tenjou.net / My Concerts / Shannon Curfman (10/21/06)
---
Shannon Curfman
Saturday, October 21, 2006
Club Café, Pittsburgh, PA

---
My Concert Review
(10/28/06) God, I've been so busy this past week, between watching horror movies and trying to get a job, that it's taken me a week to get around to writing this review...

I was a bit concerned that the show was scheduled for 7:00 - an early show - as I got to the Club Café around 7:30, but I had no reason to worry. When I got there, the band was still setting up, and judging from Shannon's comments throughout the show, she had arrived late herself, not realizing that the show was at 7 and not 8.

The Club Café's a nice place. This was the first time I'd been there. It's about the size of three Coffee Dens sitting next to one another, I'd say. The stage is in one corner, against the outside wall, and there's a section with seats, tables, and some booths, and a bar against the other side wall. The place was pretty full - the typical gang you'd expect at a blues show in Pittsburgh. People seemed to be generally impressed by my hair as usual. One guy said that he knew someone who looked like me, and that that guy's wife looked a lot like Shannon Curfman. One of the waitresses said my hair was like Shannon's, and asked me if I was with her.

The band consisted of Shannon on lead guitar and vocals, with three others - bass, rhythm guitar/backup vocals, and drums. Besides Shannon, the rest were guys. Shannon had two guitars up on stage that she used that night, and I liked them both because they were both of a greenish hue, and looked really pretty. I was really impressed with Shannon's abilities on lead guitar - she's an excellent blues guitarist. They had a fan up on stage, and there were some picturesque moments when Shannon pulled back from the microphone to play a solo, and the wind would be blowing her hair wild as she fired away.

As far as the songs they played, I couldn't list them all, let alone in the order they played them, but I do recall that they played most if not all the songs from Loud Guitars, Big Suspicions. I could be wrong, but I think they opened with Few And Far Between, just like on the album. Just before they played Never Enough, Shannon mentioned that it was her favorite song off the album to play. They did a song that I think had something to do with a rising sun, and Shannon dedicated it to two of her friends that were hanging out on the sidelines - they had recently gotten engaged, and Shannon described them as her 'roomies by default, after breaking up with my own fiancé' (to paraphrase). She also said that that particular song was the only song she had that was a love song. I couldn't tell if she was being facetious or not. The Weight featured a guest backup vocalist: Shannon's friend, the female half of the engaged couple. Playing With Fire was outstanding, and I think that was the song where Shannon left the stage (I think to smoke a cigarette, but I couldn't see). It was real cool, first there was just the drummer on stage, serving up a tasty drum solo. Then, the bassist returned to the stage and the two of them jammed on some awesome stuff. Then the rhythm guitarist returned - and he was pretty good, too, though not as fiery as Shannon on lead guitar. Finally Shannon returned and they moved on to the next song. On one of the songs, the rhythm guitarist was featured playing slide, which sounded good.

I'm guessing they played about a solid hour and a half, which is not unusual for this scale of a show. There was no encore, it was the kind of show where the band just gets up and plays until their set is done and then it's time to move on. The Club Café had a second show that night (the 'late' show), and so everybody had to filter out anyway so they could get set up.

Shannon herself was manning the merch table as soon as the show ended, although it wasn't so much a table as a couple of crates filled with merch. I would have gotten a t-shirt, but I didn't have enough cash on me, so I bought a poster and had Shannon sign it. There was a bit of a line, and I'm not much of a conversationalist, so I only chatted with Shannon very briefly, but it was great to meet her.

I was completely impressed with Shannon's performance, and she convinced me that she is indeed a prodigy, and not just a marketing scam (who's gonna believe a 14 year old could record an album like Loud Guitars, Big Suspicions? - but it's true). I'm looking forward to seeing Shannon play again the next time I get a chance, and I would recommend her to anyone who's into blues rock like myself. You can't afford to miss Shannon Curfman.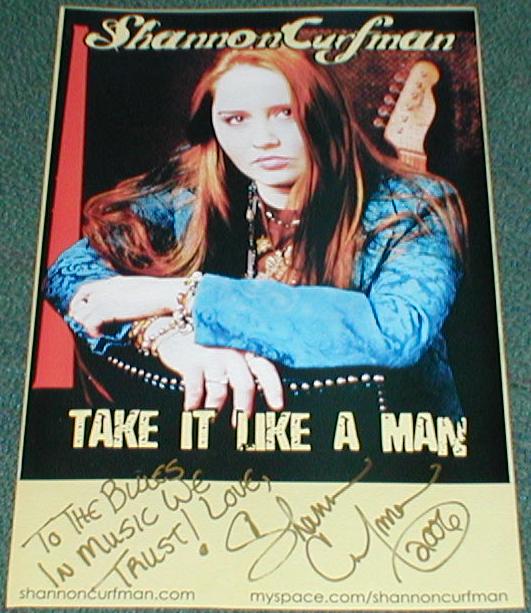 ---