YOU ARE HERE: zharth.tenjou.net / My Concerts / Johnny Winter (4/13/07)
---
Johnny Winter
Friday, April 13, 2007
Rex Theatre, Pittsburgh, PA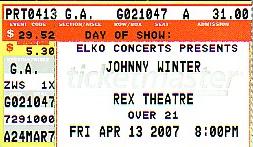 ---
Setlist:
Intro Instrumental (w/second guitarist)
?Hideaway?
Sugar Coated Love
She Likes To Boogie Real Low
Miss Ann
Blackjack
I'm Tore Down
Lone Wolf
Hoochie Coochie Man
Johnny Guitar
It's All Over Now (w/second guitarist)

Encore/Slide Guitar:
Mojo Boogie
Highway 61 Revisited
---
My Concert Review
(04/14/07) Edgar Winter may be a rock star, but Johnny Winter is a bluesman, as the title of his most recent album confirms. But he doesn't play the blues the way most bluesmen play it. Johnny likes to play the blues with the energy of rock n roll - something that could be called power blues. Johnny Winter is also still alive and [relatively] well. Though his age shows, and an accident involving his hip has required him to perform while seated for the last couple years, Johnny can still deal out the licks surprisingly fast.

The opener for the night was a solitary Canadian bluesman by the name of David Gogo, who played great steel slide guitar. He mentioned that this wasn't his first time opening for Johnny Winter. Among the songs he played, a few stuck out in my mind. Before playing one of his songs titled Halfway To Memphis, he described a trip he made to Memphis by bus from Nashville. He also explained, before playing a Bukka White tune, how he once had the opportunity to ask B.B. King about his superb vibrato technique, and B.B. told him that he was just trying to emulate the sound of a slide. I think that's pretty interesting. David Gogo played a song titled As The Crow Flies, which I know from a Rory Gallagher live album I own. He had sort of a Rory Gallagher thing going on, at least in a sort of acoustic way. In fact, David told us that when his hair was longer, he used to get comments about how he reminded people of Rory Gallagher. He also told us that he would have liked to meet Rory, but never got the chance. Another song David played that I recognized was Let Me Love You, which I recall Rod Stewart and Jeff Beck recording for Beck's first solo album (Truth). Just before David's last song, he said he was going to break the cardinal rule for opening acts - no, he wasn't going to drink all of Johnny's beer, he said, but he was going to play a Johnny Winter song. He did Dallas, from Johnny's classic self-titled album, which was a kind of solo performer tune to begin with, so it suited David's style well, and he played it well, too.

Johnny's set opened as his backing band took the stage - Paul Nelson as second guitarist, with Scott Spray on bass and Wayne June on drums. They jammed for awhile on an instrumental tune that I didn't recognize, until Johnny Winter took the stage to finish it off. The second guitarist left the stage for most of the set, returning for just one other song, as I recall. Johnny and the gang then played another instrumental, which sounded very familiar to me, though I couldn't quite place it at the time. Looking at Johnny's recent setlists, I figure it must have been Hideaway, a Freddie King tune that Eric Clapton recorded with John Mayall for their 1966 Bluesbreakers album.

The next song was one of two I recognized from Johnny's I'm A Bluesman album. This one was Sugar Coated Love. After that came a song Johnny introduced as She Likes To Boogie Real Low. Following that was a track from Johnny's fantastic Second Winter album, from back in 1969 - the song was Miss Ann. And then Johnny played my favorite song of the night, a Ray Charles number titled Blackjack. I wanna call it Johnny's slow blues number for the night, but there was nothing slow about Johnny's playing. His licks were especially fiery and emotional on this song. Very impressive. I was disappointed that Johnny didn't play his signature It's My Own Fault (actually a B.B. King song), but he seemed to stray away from most of his classic signature tracks. Still, in the absence of It's My Own Fault, Blackjack was an incredible treat.

After the Ray Charles cover, the drummer took over the vocals for a rough Clapton-like read of the classic I'm Tore Down. Then came another I'm A Bluesman track - the song called Lone Wolf. Following that was a groovy jam on Muddy Waters' classic Hoochie Coochie Man. While the musicians chugged along, the drummer began to tell a story over top of the song, about Muddy Waters' influence, and how Johnny Winter, as a child, was determined to one day play with Muddy Waters, and how he went on to produce Grammy-winning albums for Waters. All the time I was thinking to myself, "Muddy Waters invented electricity". Finally, the drummer handed the song over to Johnny, and they played it through.

Another song I would have liked to hear, but didn't, is Johnny B. Goode, but in its place, Johnny rocked out with an energetic Johnny Guitar. For the pseudo-final song, the second guitarist returned to the stage, and they all jammed on It's All Over Now, a song I recognized as an early Rolling Stones cover. Afterward, Johnny got up and walked to the edge of the stage, makin' like the show was over, but instead traded his signature headless guitar for a more traditional one, and came back to perform a couple slide tunes before finishing the set. The first of the two was something of a Mojo Boogie, from what I could tell, and the final closing number was Johnny's outstanding cover of Bob Dylan's Highway 61 Revisited, complete with spirited slide guitar.

It was a great show, louder and faster than I expected. Especially after hearing the album I'm A Bluesman, I was expecting Johnny to be slower and weaker, given his age and condition. To my surprise, he seemed to play just about as furiously and articulately as ever. His voice sounded good, too. I suppose the only major difference is the obvious aged look Johnny now inevitably sports. He's kind of like the old bluesmen of the previous generations now, though. But he still plays power blues. I liked how he counted into almost every song, it made the experience seem even more classic - you hardly ever hear that sort of thing anymore.
---