YOU ARE HERE: zharth.tenjou.net / My Concerts / Joe Bonamassa (6/14/07)
---
Joe Bonamassa
Thursday, June 14, 2007
Three Rivers Arts Fest, Pittsburgh, PA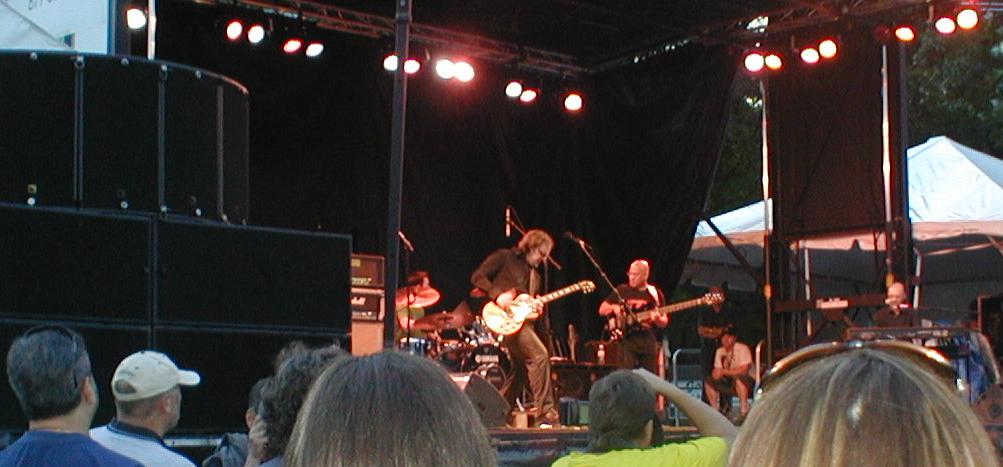 ---
Setlist:
Bridge To Better Days
Walk In My Shadow
Blues Deluxe
Mountain Time
Burnin' Hell
Another Kind Of Love (New)
Sloe Gin (New)
High Water Everywhere (Acoustic)
Woke Up Dreaming (Solo Acoustic)
Instrumental (Django?)
Just Got Paid/Dazed And Confused (incl. Drum Solo)

Encore:
Asking Around For You
Jam Outro (Los Endos?)
---
My Concert Review
(06/14/07) Joe Bonamawesome!! This show was incredible. Even better than the last time I saw Joe at the Rex Theatre last spring. There's some kind of magic about an open air show, even in the middle of a city. Plus, since it was all ages, there was a nicer variety of people, not just your typical aged 'tobacohol' rockers, but people of all ages and persuasions. And can you believe it was free? Just incredible.

Joe played for a good hour and a half, opening his set at 7:30 with the rockin' Bridge To Better Days, from his latest album, You And Me, released already a year ago. He played some familiar riffs during that song, including one that I placed as later Deep Purple, but couldn't quite put my finger on it. I was thinking Knocking At Your Back Door, but other people are saying its Perfect Strangers, and I trust them.

Then Joe played Walk In My Shadow, which I was surprised to hear, because that's from way back to his first solo album, A New Day Yesterday. Shadow sounded great. I was waiting to hear A New Day Yesterday, the title track, but they just couldn't fit it in the setlist...Joe's got too many good songs.

Blues Deluxe followed, a classic for Joe, originally recorded by Jeff Beck with Rod Stewart on vocals. It sounded great, even though Joe skipped the "you know what" part that I like so much. During the part toward the end with the long scream, Joe stopped and told us how his mother used to tell him that he would one day disturb the neighbors. Then he proceeded to shout along with the audience, loud enough to certainly disturb anyone in the city this side of the rivers.

Mountain Time came up next, and it hasn't been one of my favorite Bonamassa numbers, but it sounded better than ever this time around. I actually thought it might be The River at first, but Joe didn't play The River tonight, unfortunately. He did play the sort-of second half - Burnin' Hell - though, and that one was good.

Next up was a couple of numbers I didn't recognize, and I have confirmed that they are new numbers from the album Joe is currently working on. The album's title is expected to be Sloe Gin, named after the obscure cover/title track. At first, I was less than enthused about the album, since Joe said it would be more acoustic based, and to me that's a natural turn-off. But after tonight, my excitement is definitely sparked. The first of the two is one that's being called Another Kind Of Love. It is a nice rockin' number. The second one was a heartbreaking slow blues, though, that really moved me. From the lyrics, I figured the title would be So Damn Lonely, but it's actually Sloe Gin, the title track from the upcoming album. Damn, that was an amazing song. I dunno, I only heard it once, and I'm just saying, but maybe Joe's best song yet?

After the two new ones, it was time for an acoustic set, starting off with High Water Everywhere, another track from You And Me, followed by a solo acoustic Woke Up Dreaming (bassist, drummer, keyboardist, all left the stage). This is the one where Joe keeps going faster and faster, and he dressed to impress. [Speaking of dressing, Joe was classily dressed all in black, and even donned a black baseball cap at the very end of the show.]

The band returned, and Joe switched back to electric, for an instrumental piece which I wasn't certain of, but people are saying it was Django, also from the You And Me album. That jumped into a rockin' Just Got Paid, which I wasn't sure at first, but seems to be the very same ZZ Top tune.

And then it just went crazy. During the soloing, Joe Bonamassa started doing a very convincing technique on his guitar that made it sound exactly like Jimmy Page's bow solo, but without using a bow. It was fantastic, and after a little bit of jamming, Joe broke out into the heavier portion of the solo to Zeppelin's Dazed And Confused. I was completely taken by surprise. Something like this is definitely possible at a Joe show, but I never seriously expected to hear him play the whole freaking solo to Dazed And Confused! That was truly one of the happiest moments of my life! The solo was accompanied by some amazing and fierce drumming, and actually segued into a full-on drum solo a la the 1970's. I didn't realize Bogey could pull that off, but he was really good. After a while, the band reconvened and ended the song with a last touch of Dazed, finishing the set.

We didn't have to wait long for the encore. It was Asking Around For You, another of Joe's favorites from the You And Me album. And there was a rockin' jam right at the end to close out the night. I wasn't sure if it was just a Jam Outro or an actual song, but looking at other recent setlists, it may have been the Genesis tune Los Endos.

And Joe was off just after nine. A truly incredible show. I even got my brother and my dad to finally see Joe live, and they both loved it. There's only two regrets I have, and they are only in hindsight, they didn't hinder the experience of the show in the slightest. Looking at other recent setlists, I see two songs that I would have died to hear Joe play live, that he didn't play tonight. One of them is So Many Roads, one of my two favorite songs off of You And Me, which was previously recorded by Peter Green with John Mayall's Bluesbreakers in the 60's (Peter Green being one of my favorite guitarist/musicians of all time). The other song is one that is being claimed as one for the new album, Sloe Gin, so at least I'll be able to hear it there. It's Ten Years After's One Of These Days. To hear Joe do a TYA song live would have nearly killed me, and my dad, being a huge TYA fan, would have been pleasantly surprised as well. Now I really can't wait for Joe's new album...
---