YOU ARE HERE: zharth.tenjou.net / My Concerts / Frank Marino & Mahogany Rush (7/21/07)
---
Frank Marino & Mahogany Rush
Saturday, July 21, 2007
Pittsburgh Blues Festival, Hartwood Acres, PA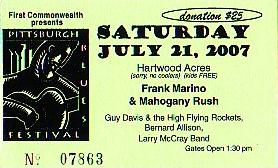 ---
Setlist:
?
---
My Concert Review
(07/22/07) I only recently became aware of Frank Marino & Mahogany Rush, so I don't know his discography very well, and don't yet own any of his albums (though that should be corrected very soon), but when I found out he was playing at the Pittsburgh Blues Fest this year, I figured it was an opportunity not to be missed. Besides, Frank Marino is one of those people they say is best heard live.

So who is Frank Marino, and what is Mahogany Rush? I can't fault you for not knowing. Neither of my parents, who were both into the classic rock scene in its heyday, were familiar with either when I asked them. Frank Marino is a Hendrix-inspired virtuoso guitarist who started out in the 70's, not unlike Robin Trower. Marino's Hendrixian influences are considerably more obvious than Trower's are, though. Marino doesn't shy away from covering Hendrix tunes; he dedicated his first album to Jimi Hendrix; and he was even rumoured to have been the reincarnation of Hendrix in the 70's (that rumour has since been dispelled). As for Mahogany Rush, it's the name of Frank's band, and it was inspired by one or many of Frank's acid trips from his formative years. Think of it as like a sort of 'Purple Haze', and you'll be right on track.

Today was a beautiful day for an outdoor festival. Blue sky, fluffy clouds, and just enough sun. Not too hot, either, though it got kind of chilly after dark (personally, I wouldn't have minded if it were a bit hotter, but I love the heat). Lots of bands played the festival today, and more yesterday and tomorrow. I finally made it out to Hartwood Acres, after an annoying detour that was the result of a missed exit and complicated city highways, while Bernard Allison (son of blues great Luther Allison) was in the middle of his set. He and his band played some good music, including a rather SRV-esque tribute of sorts, and another song with some licks that I'm pretty sure came from Johnny Winter's classic album Second Winter, if I'm not mistaken.

Bernard Allison finished, and Guy Davis stepped up to the second stage at back of the field. He started with some solo acoustic (and even banjo) numbers, but the set heated up when the band joined in (including an electric guitarist). They played a good number of blues classics, including Goin' Down Slow.

Frank Marino & Mahogany Rush took the main stage at around a quarter after nine or so, just as it was getting dark (and cool). They were introduced by (once again) Sean McDowell, the DVE dj I wake up to every morni...er, afternoon. I want his job. Then Frank & the band played their hearts out. Not many people can pull off a continuous guitar assault for over an hour. Most of the songs were pretty much just long guitar solos (not really solo, although one of them was), because that's the kind of guitarist Frank Marino is. You know, like Jimi Hendrix. Speaking of which, their opening number was Voodoo Chile, the long jammy version. It was pretty impressive. Like the kind of song a lesser band would finale with. But Frank and the gang were just getting started.

Followed was a song I didn't recognize, though it had a tasty riff. Then Frank dug out another bluesy Hendrix cover with the always-pleasing Red House. After that was some more jamming, probably on a song I just didn't know, but which eventually rounded off into an instrumental version of She's Not There (of which I'm a big fan of Santana's version, though it was written by the Zombies). Frank played the vocal melodies on the guitar, and it just sounded fantastic. That eventually exploded into Clapton's Crossroads, a la Cream, this time with vocals. Crossroads eventually finished with a reprise of She's Not There.

One of the best songs of the set was a charged-up version of Johnny B. Goode (already a charged-up song). Frank does a great Johnny B. Goode cover. Probably at least as good as anybody else, if not better. It started out pretty hardcore, with some heavy licks, almost reminiscent of an I'm Going Home type attack, with sections of vocals between, opening up the song. That kicked into the familiar riff which fired the song away.

There could have been more stuff, but at some point Frank launched into his solo solo, where he stood to the side of the stage (where his pedals were) and wailed for a good ten minutes, at least. The spotlight was on him, the rest of the stage dark. You could also see the psychedelic light show projected onto a screen at the back of the stage (which played for the whole set). To support the Mahogany Rush theme, no doubt. The solo got to a more mellow and less upbeat section, to which someone in the audience near me shouted out - jestingly, I'm sure - "keep that up, it's making me feel depressed!"

The set seemed short, and indeed, it couldn't have been more than an hour, but Frank Marino & Mahogany Rush came back for an encore, which it sounded like they weren't expecting (always a treat). Many people had actually left during Frank's set (I can't imagine why, unless they're blues purists, tired children, or cold wussies), and a lot of the people that were left started heading out as soon as the band left the stage. So for the encore, I walked right up to the front and got in pretty close with the rest of the diehards, for the last push. They played Roadhouse Blues, which was pretty fiery. Frank kept drawing the song out, like he didn't want to let it end (or perhaps he was just playing with us, or his band). Not a bad song to end a show with, and Frank even threw in the first bar of Star-Spangled Banner at the very end (boy, it would have been cool to hear that one). Frank said he wished he could play longer, maybe next time, and then it was done.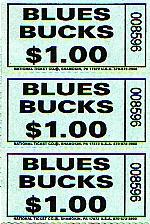 ---