YOU ARE HERE: zharth.tenjou.net / My Concerts / Lez Zeppelin (2/28/08)
---
Lez Zeppelin
Thursday, February 28, 2008
Diesel Club Lounge, Pittsburgh, PA

---
Setlist:
Led Zeppelin I
Good Times Bad Times
Babe I'm Gonna Leave You
You Shook Me
Dazed And Confused/Sunshine Of Your Love
Your Time Is Gonna Come
White Summer/Black Mountain Side
Communication Breakdown
I Can't Quit You Baby
How Many More Times

What Is And What Should Never Be
The Ocean
Organ Intro/Kashmir
Rock And Roll

Encore
Black Dog
---
My Concert Review
(02/29/08) Diesel was pretty nice. Being part club and part live music venue, it had a very clubby atmosphere for a live music venue. There was an upper floor, only one side of which was open to general admission (seems there was quite an expansive section reserved for a V.I.P. group). The central area back against the wall on the ground floor featured the raised stage, with a bar directly opposite, at the other end of the floor space for the audience. Pretty intimate venue for a live act.

Opening band was a local rock/metal group by the name of Von Dane. They were a bit heavy, which kind of tired me out by the end of their set, but they were a good band with good chops and good songs, so I enjoyed it, for what it was. The lead soloist definitely had that 'shred' thing going on, which only reminded me how impressive a guitarist is that actually takes time to make their notes mean something. But the riffs were awesome. The band definitely has something going for them; I would just take a different stylistic approach, if it had anything to do with me.

Lez Zeppelin descended onto the stage from one of the two side stairwells, conveniently positioned to lead right onto the stage (and obviously blocked off from the audience from above). Four girls to take the four roles of the original Led Zeppelin band. They had their parts down - the girl that 'played' Page not only looked but acted the part (as they all did in their respective roles, but I was obviously focused on 'Page'). I had not known this, but apparently, this was the band's first gig in 2008, and to celebrate, they announced that they were going back to the beginning - that they would play the first Led Zeppelin album in its entirety. This was great, because the first album is quite possibly Zeppelin's best.

Kicking off with Good Times Bad Times, I noticed with glee that 'Page' had a telecaster with that distinctly unique pattern reminiscent of the real Page's own tele from his early days with Zep. Following into Babe I'm Gonna Leave You, it sounded at times like the band was still getting warmed up, but they played with passion and with visible pleasure - and besides, even the real Page was a bit sloppy, but that never hampered his genius.

For You Shook Me, 'Page' switched to the classic Les Paul, and donned a shiny silver slide to mimic 'Plant''s wailing vocals. The sound mix wasn't nearly as clear as I'm used to when listening to Zep, and the vocals were a bit hard to hear for a large portion of the show. At least for me, that's not what I was altogether focused on - the guitar was pretty loud. But there's something there that concerns me, not about Lez Zeppelin, but about modern live sound mixes in general. Everything is so loud - and loud is good, but sometimes it gets to the point where you can't really distinguish one instrument from another, and you lose that dynamism and it just becomes a mud of noise. I'm not saying the sound mix for Lez was that bad, but it occurs to me that despite the level of energy produced with the volume at 11, I feel like maybe the music could get over better if the sound was set more for a group of people than a crowd. If you know what I mean.

Dazed And Confused was fantastic. During the solo, 'Page' grabbed a bow and had a good time with it, while the rest of the band walked off stage for a break. I was blown away by the drumming right at the turnaround after the instrumental portion - so powerful, it really drives the song into you, and it's just such great instrumentation that leads you on and just feels right - it's like a musical orgasm. The drumming was amazing, but the crunchy guitar riffing has a lot to do with it as well. Towards the end of the song, the band broke off into Sunshine Of Your Love, which was an exciting surprise. It sounded great, and despite not being a Zep song, it fit well into the set. I noticed the irony that where Zep would throw songs that were old in their day into their live medleys, Lez decided to throw a song that's old today into their medley, even though the song happens to be a contemporary of the rest of the music the band plays! Well, it was in character, albeit updated for today, though Zep were known to jam on some contemporary songs sometimes, too, and furthermore, who at a Zep tribute show is gonna wanna hear songs like Blueberry Hill, or All Around The Mulberry Bush, or Boogie Chillun? Well, I bet they wouldn't mind (I know I wouldn't), but Sunshine Of Your Love has an extra special sort of kick.

Your Time Is Gonna Come sounded good, even though it's my least favorite track from Zep's first album. For White Summer/Black Mountain Side, 'Page' picked up a Danelectro and took a seat on a stool, just like you can see the real Page doing on the Led Zeppelin DVD at the Royal Albert Hall concert. 'Page' wasn't quite as good as Page, and Lez Zeppelin altogether aren't quite as good as Led Zeppelin, but that shouldn't surprise anyone. They are very talented though, and it warms my heart to see a group of girls playing a serious tribute to Led Zeppelin, without having to rely on the gimmick.

Communication Breakdown was short and sweet, though not quite as biting as Zep's. I Can't Quit You Baby was fantastic to hear. That's one of my all-time favorite Zep tracks, and it's not that popular, so it's amazing getting to hear a band play it live. And Lez played it well. They used the instrumental intro you hear on live versions, which gives way to a break, at which point Plant comes in with the wail that opens the album version, after which the song kicks in full gear. This is one of those oozy bluesy songs, and the licks were wet and sticky. Very tasty.

That song ultimately segues right into the heavy handed riffage of How Many More Times. Another standout performance of a standout song in Zep's catalogue. Finishing up the first album set, the band joked about continuing on to play the second album in its entirety, but instead picked a single track from it before moving on. That track was, perhaps surprisingly, What Is And What Should Never Be. It sounded great, and 'Page' switched back and forth between slidin' and pickin'. Very storybook kind of song, with a periodic heavy section, not unlike a lighter-hearted Babe I'm Gonna Leave You, now that I think about it.

The next song was The Ocean, a popular hit with great riffage. Very feel-good. Following that, 'Jones' played an ominous organ intro, leaving me guessing at what song was coming, when it finally crashed with a supermassive bang into the heaviness of Kashmir. Very weighty song. I can see how people could say that song is a precursor to heavy metal, provided you ignore the orchestral accompaniment. It was very impressive to hear it live. It was also another song where I noticed the drums - kudos to 'Bonham'; pulling off Bonham is quite a feat. After having run its course, the song finished, and the band closed out the set with a lighter track, the bouncy Rock And Roll. I was surprised, because I was expecting the band to end with Stairway To Heaven, but nope, they didn't play that one. I wonder if it was just tonight, or if that's a song they just don't do.

Returning to the stage for an encore, I was also expecting to hear Whole Lotta Love, since I saw the theremin set up at the corner of the stage - but nope, they neither played that song nor used the theremin. Oh well. The encore they played was just as good, though. It was Black Dog, the kickass kick-off to Zep's fourth album. 'Plant''s vocals sounded incredible on this one, possibly her best track of the night. 'Page' actually opened it with both trick intro's that Page has used - the Bring It On Home riff, and the Out On The Tiles intro. The song, a classic in its own right, sounded great, and the audience was spot on in accompanying the "uh, uh"'s. Excellent close to an excellent show.

In conclusion, I have to say that, though the sound mix might have been a little muddy in my opinion, and the band maybe not as tight as the original Zeppelin, it was a kickass show, and recommended for any Zep fan. The idea of seeing four girls pretending to be Led Zeppelin is a good enough reason in and of itself to go to the show, but rest assured, these girls are talented, and where other bands may have made the mistake of stifling the music by playing it too 'to the letter', Lez Zeppelin is satisfied to get the spirit of Zeppelin while not sacrificing their own individual interpretations of the music, but without upsetting the fans who know what they want to hear.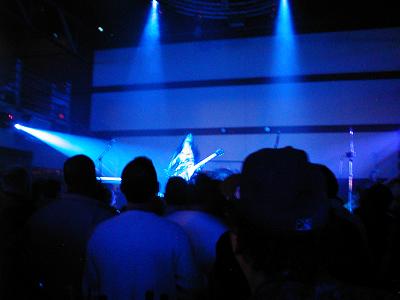 ---