YOU ARE HERE: zharth.tenjou.net / My Concerts / Robin Trower (3/26/08)
---
Robin Trower
Wednesday, March 26, 2008
Rex Theatre, Pittsburgh, PA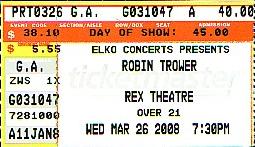 ---
Setlist:
Twice Removed From Yesterday
Shame The Devil
For Earth Below
No Time
The Fool And Me
Roads To Freedom
Islands (Instrumental)
Day Of The Eagle
Bridge Of Sighs
Rise Up Like The Sun
Victims Of The Fury
Gonna Be More Suspicious
Hannah
Little Bit Of Sympathy

Encore
Too Rolling Stoned/Go My Way
Another Time, Another Place
---
My Concert Review
(3/27/08) This show was comparable to the last Trower show in Pittsburgh, meaning that it was incredible. I made it to the Rex Theatre a little after 7:30, after searching for a parking space, so I missed the beginning of the opener's act - but it was no problem, since it was just some young dude with an acoustic guitar (at least he was better than Norm Nardini...). The place was hot, and crowded. For once, I didn't even get a seat! I wandered over to the right side of the theatre, which I've never watched a show from before. I heard from a passerby that the balcony above was also "standing room only", so I picked a spot just next to the stairs. I had to stand through the whole show, and I was all the way at the back, but I had a pretty clear view of the stage, and considering the size of the theatre, even the back isn't that far away. Bottom line, I've seen shows from much worse positions.

Luckily, it wasn't too long before Trower and the band took the stage. The guys that were standing next to me had a $4 bet about what the opening song would be. Two of them were expecting Twice Removed From Yesterday, which is the track he opened with last time, and the third was banking on Too Rolling Stoned - although I agreed that that song was too much of a heavyweight for him to open the show with. Looks like the other two guys guessed right.

Last time, I lamented that Trower didn't play any songs from the album For Earth Below - this time I lucked out and heard a bunch from that album. Including, right near the start of the show, the awesome Shame The Devil, and the title track For Earth Below - which has that trademark eerie Trower sound. That one had an extended outro that grooved for a bit, getting us all in the mood for later jams.

Next up was a song I didn't recognize followed by a surprise track from the unsurprising Bridge of Sighs album - The Fool And Me. That preceeded one of the two tracks from the album Victims Of The Fury that was played tonight and at the last show - this one titled Roads To Freedom (I hope that wasn't too confusing), I suppose not a bad song to be playing in this day and age. When Trower activated his wah pedal at the end, it sounded powerfully magnificent.

Following that, Trower introduced an instrumental, but I didn't catch what the title was. I think he said that it was one of his favorites though. I recognized it, but I couldn't recall what it was. Doing a little research, I've found that it's the track Islands from Back It Up - the last album Trower recorded with vocalist James Dewar. It is a beautiful little song, for sure, and it sounded great live.

At that point, it was time for Day Of The Eagle, with outstanding guitar breaks, leading into the masterpiece Bridge Of Sighs. Hearing that song live is always amazing, and the experience of it brought me instantly back to October 2006, when last I saw Trower play it - I could feel the autumn air, the falling leaves, and the mysticism of Halloween, as the song played. Going into the chorus each time, the band went silent just for a second before digging into the chords, and it was very effective. Trower jammed for quite awhile, as expected, and at a couple points he raised his hand, likely a signal to the band, just before going into short bursts of loud, fast sections of the solo.

Afterwards, another less familiar (to me) song was played, followed by the other track from Victims Of The Fury, this time the title track. Then, to my delight, they played another song from For Earth Below - Gonna Be More Suspicious!

Last time, the band did Hannah - one of my favorite Trower songs by the way - second into the show. This time, they played it second to last (not counting the encore). It's an amazing song, but I'm tempted to say it wasn't quite as impressive as I remember it being last time. It's a great song for showing off both guitar and vocals, but I felt in each of those areas it lacked its ultimate potential. Not to say that it was played poorly - it was amazing, but just didn't quite reach that magical level for me this time. But I'm not complaining.

The final song of the regular set was the expected closer, Little Bit Of Sympathy. This is a perfect closer. It's an excellent rock song with a lot of energy, and the way Trower ends the show, every single time, is amazing. You can hear it on the live albums, and it's just so much fun to hear it in person! As much as I like artists to mix up their setlists, I think a Trower show that didn't end with Little Bit Of Sympathy (whether it's the main set or the encore) would be missing something.

Speaking of missing something, though I, and I'm sure a lot of other people, were expecting to hear Daydream in the encore - like last time - it was nowhere to be seen. A shame, since it's easily one of Trower's best songs. Still, you can't have it all. Instead we got a surprisingly truncated version of Too Rolling Stoned - which sounded absolutely fantastic, though the slower second part was omitted in favor of jumping into another song - kind of like the Whole Lotta Love into Rock And Roll medley Zeppelin played later into their career. The other song was Go My Way, which features on the recent album Another Days Blues - which I consider to be on par with anything Trower has recorded, albeit it's focus is more bluesy in comparison to his best rock albums from the 70's. It was great to hear one of the songs I know from Another Days Blues, so I forgave them for truncating Too Rolling Stoned. The final song of the night was Another Time, Another Place - another one I'm not as familiar with, but considering the title, it seems like an appropriate song to end the show with.

Trower was in top form tonight. He seemed to have a little difficulty on the very first song, getting the settings right on his guitar and fx, but that didn't last long, and his playing throughout the night was outstanding. He had some wicked sustain in a few parts, despite not playing Daydream (a song whose signature is sustain); the wah sounded fantastic; and his distortion was tasty. A good balance between his total rock out mode, and the more mysterious soundscaping, that makes him the god of space metal blues. Think about the guitar gods of the seventies that are still playing today, and I challenge you to find one who still puts on a show as good as Trower does, compared to his classic performances.

Davey Pattison once again did a good job with the vocals, though I still find myself wishing James Dewar were still around. In some cases where Dewar would wail, it seemed like Davey was kind of holding back. He still sounded good, though. The guys I was standing next to were talking before the show about how Davey reads the lyrics off a sheet in front of him on the floor of the stage, and sure enough, it appeared that that's what he was doing. That's not a criticism, I mean, it doesn't really impact his performance on vocals - if anything it keeps him from forgetting the lines (we can't all be memory banks, can we?). But I thought it was an interesting observation, considering a certain singer from a certain band I knew in college that my friend has joked about occasionally.

Am I missing anything? Oh yes, last time, Trower played a red-looking guitar. This time it was a pale yellow, I think (it can be hard to tell with all those different colored flashing lights) - still his characteristic strat. The bass player had a sort of pastel blue guitar, so I'm thinking maybe they were in "Easter mode". Could be.

And I think that's it. Amazing show. Great to hear some tracks from For Earth Below. Too many songs to hear them all in one show, so you can't be too picky. But there are still two songs I would die to hear live - two of my favorites, I Can't Wait Much Longer from Twice Removed From Yesterday, and It's Only Money from For Earth Below. Who knows. It could happen.

If you're a fan of 70's guitar rock, then unless it's a matter of taste, you'd be a fool to miss what Trower still has to offer these days. Check him out. I recommend it.
---