YOU ARE HERE: zharth.net / Guitars
---
Zharth's Guitars
(And Other Music-Related Equipment)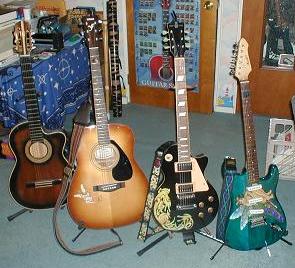 ---
My Guitars:
Meddle - Austin Stratocaster (Green)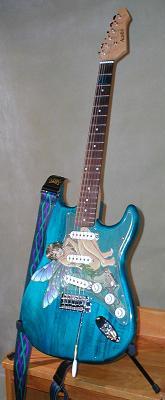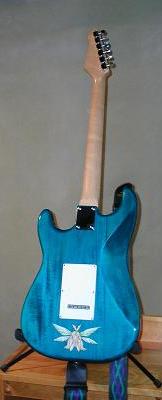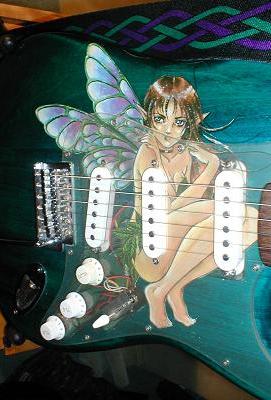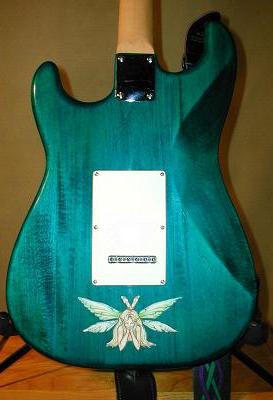 Note: Despite the color discrepancy, these pictures are of the same guitar -
the color tends to look bluer in pictures, like on the left, but the real life color is a lot closer to the one seen on the right.
The Story: This was the first guitar I bought. After watching Jimmy Page play Since I've Been Loving You in the concert film The Song Remains The Same in the spring of 2002 (right around Easter), I grabbed my musician then-girlfriend and hoofed it to the nearest music store. I was determined to become a guitarist so I could play like Jimmy Page. I was divided between choosing an acoustic or an electric guitar, and although I thought an acoustic would be a better starter instrument, ultimately, I couldn't shake off the allure of the electric instruments. So I decided on a starter strat, blue in color, except at the last minute I noticed the same guitar in a beautiful shade of green. I named it Meddle, after the color, which reminded me of the cover of Pink Floyd's album of the same name. If you look at the cover of Meddle, you'll notice it's more of a blue than my guitar, but that's inconsequential. The shade of green on that guitar happens to be my favorite shade of my favorite color. I believe the wavelength is 491.604 nm, and happens to be a prominent spectral line of mercury (Hg - the chemical element, not the planet), although the exact shade might be slightly different from that.


Modifications: The first modification I made to this guitar was adding a faery sticker on the back. The sticker reminded me of someone I was fond of at the time, and I wanted to get her to carve her name into the back of the guitar, but that would have been asking a little much. The faery's name is Flora Fae. The second, and much more substantial, modification I made to this guitar was the major redesign of the front, performed in Fall 2006. Initially, I just wanted to replace the white pickguard with a clear one, to show off more of the beautiful color of the guitar, but in the process of getting under the pickguard, I decided to throw on a sticker under there. I ordered the sticker, thinking it would be small enough to fit in the corner, below the neck pickup, but it ended up being almost too big to fit on the face of the guitar! It was just the right size to squeeze in there, and I knew it would add major personality to the guitar if I pulled it off, so I did whatever necessary to get it on under the pickguard (and partially sticking out above the pickguard). The final effect is breathtaking, I think, and I've gotten lots of compliments on it. I pride myself in being unique, and that feeling extends to my guitars. The faery's name is Sweet Leaf.
The Jabberwock - New York Pro Les Paul (Black)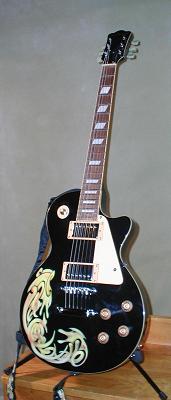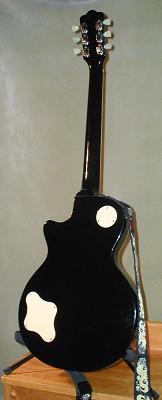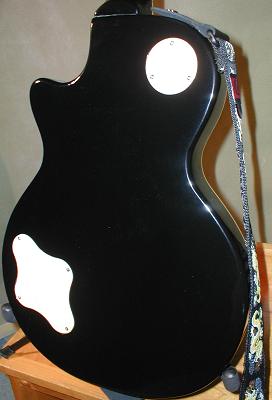 The Story: I got this guitar as a gift from a good friend, in December of 2006. It was my second electric guitar, and my first experience with a Les Paul! The dragon design is magnificent and the color scheme is uniquely beautiful. To honor the dragon motif, I named the guitar after my original song, the first song I wrote, about a dragon that terrorizes a village - The Jabberwock.
Rhapsody - Yamaha Hollow-Body Acoustic (Toasted)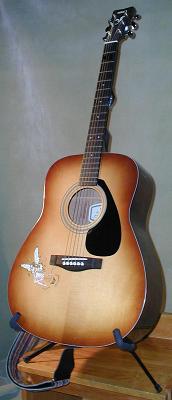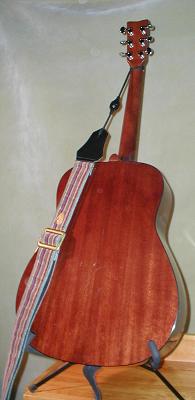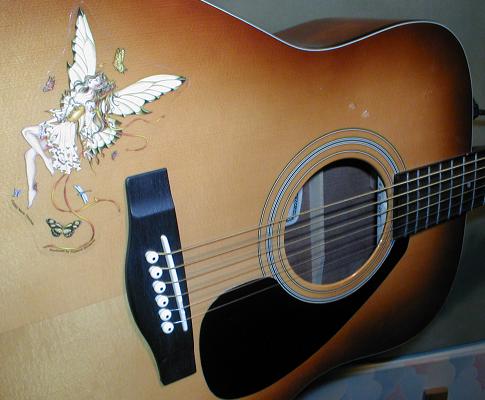 The Story: This was my second guitar. After spending a lot of time with Meddle, I gradually acquired the desire to own an acoustic guitar, especially after my little brother started playing guitar and had an acoustic of his own. I'm pretty sure I bought this after Christmas in early 2005 (or possibly late December 2004). I made a point of buying a guitar that was completely hollow and without any cutaways. I wanted it to be genuinely 100% acoustic, which is why I didn't bother to look at any acoustic/electrics, either. I had an electric guitar already, and I just wanted one that was, as I said, 100% acoustic. I picked up this one, and it had such a warm and beautiful tone, I knew it was the one I was looking for. I named it after what the sticker was called that I put on it - Rhapsody.


Modifications: The only modification I've made to this guitar is the subtle but unique addition of a faery to the front. It was a beautiful sticker, and I felt it fit the guitar well. I had actually bought the guitar having a different faery sticker in mind to put on it, but ultimately I decided that this one was better suited to the guitar. The full name of the faery is Rhapsody in Gold, and I shortened it to name the guitar Rhapsody, a name that I also felt described the beautiful tone of the guitar well.
Peruvia - Classical Acoustic w/Single Cutaway (Dark Brown)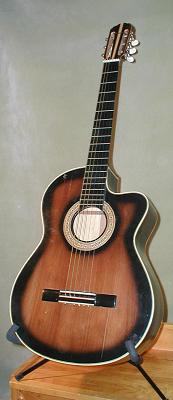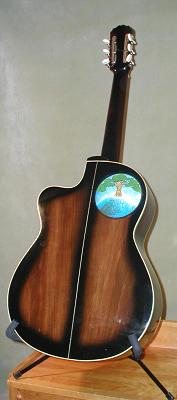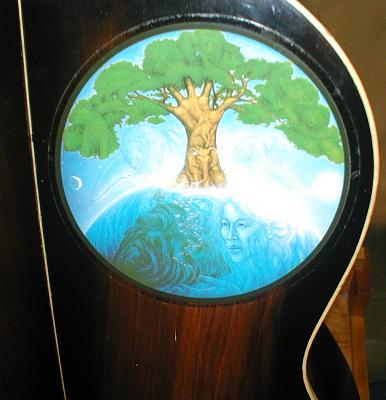 The Story: This guitar was brought to me from Peru by one of my buddies in college, a certifiable world-traveller. The guitar was in somewhat poor condition (it was old), but it was in one piece, and that's what mattered. The strings needed to be tightened, and one of the tuning pegs wouldn't stay in place, but I got those fixed up eventually. Unfortunately, the guitar has other problems, including really high action and somewhat sharp frets along the edges of the neck, making it very difficult to play. I don't even bother with the thing. In fact, I think it's haunted. I originally wanted to use it as an alternate acoustic guitar to keep in an alternate tuning for doing certain songs, but I obviously can't play it. Besides, I don't really like classical-style guitars because the neck is so wide. Only one person has ever been known to play it, and that's my little brother, but he's an exception to most rules. I named the guitar Peruvia, to accentuate the fact that it's exotic.


Modifications: As is my style, I added a sticker to this guitar to give it more personality (not that it really needed it). I put on a Tree of Life sticker on the back.
---
Music-Related Equipment:
Amplifiers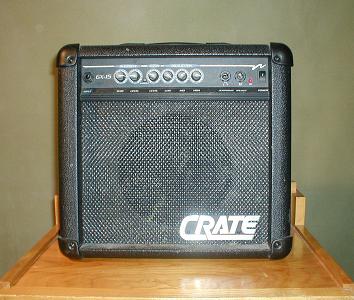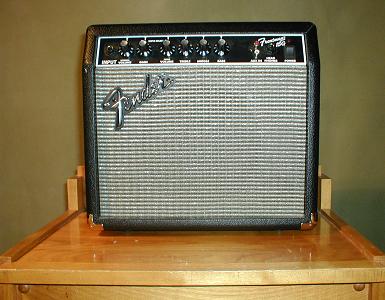 I own a couple of 15 watt amps. The Crate GX-15 was part of the package when I bought Meddle. Later, when I bought a microphone (an Audio-Technica DR-VX1) in preparation for my first gig, I figured I'd need another amp for it, so I bought the Fender Frontman 15G (although I actually use the Fender amp for my guitars and the Crate amp for the microphone). I'm not playing to any stadiums, and although the idea of having an amp big enough to sit on is intriguing, I have yet to find myself in a situation where my 15 watt amps fall short of my needs.
Guitar FX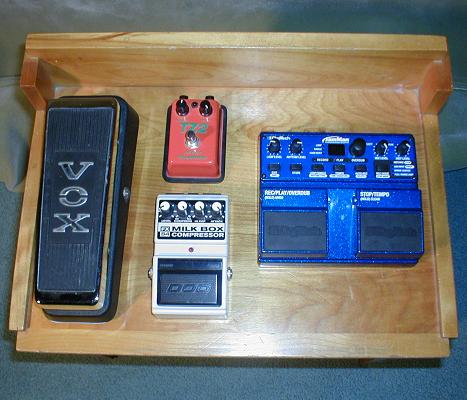 The first guitar effect I bought was naturally a Wah pedal - the VOX V847 Wah-Wah Pedal (although I could just have easily gotten a Dunlop Crybaby). I've had countless hours of fun playing with it, although lately I haven't been using it much. It wasn't working right for some reason, and the batteries kept getting drained. I've been considering buying a new model that I can plug in, hopefully to alleviate those problems.


The next effect I bought was a fuzz box (Guyatone TZ2 'The Fuzz'). This was before I got into the habit of just using the overdrive distortion that comes with most amps, which I've been using lately. But I still like having The Fuzz because it gives me a specific flavor of distortion that I like, which is reminiscent of the fuzz guitar of the 60's, characteristic of tracks like The Rolling Stones' Satisfaction, The Yardbirds' Heart Full Of Soul, Frijid Pink's House Of The Rising Sun (actually, that was 1970), and so many others.


Somewhere along the line I decided to experiment with a compression/sustain pedal. I was looking for really long sustain, like Santana gets, but unfortunately, this pedal didn't quite do it for me. I practically bought the DOD FX84 Milk Box Compressor from listening to the audio sample alone - it was a very bluesy, very sustain-y passage. Although the Milk Box didn't fulfill my dreams, it's still a nice pedal to play with, when I want a really smooth, creamy tone. It's just that most of the time, I crave a crunchier, distorted tone...


I had been toying with the idea of getting a Looper pedal for a long time before finally getting one, but you know the good ones are just so expensive! I did finally get the Digitech JamMan Looper/Phrase Sampler, and I am very impressed with it. It makes recording, performing, and learning songs so much easier and more fun. Especially for a solitary performer who has no backing band yet desires more than just a single guitar/voice combination. I can foresee myself continuing to grow into this pedal into the future.
Percussion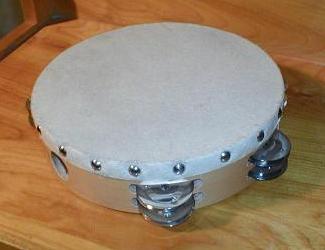 Being so focused on guitar, I haven't spent much time on other instruments, although I do think that playing drums sounds like it could be a lot of fun. However, the only real percussive instrument I own is a simple tambourine, which I bought after seeing a guy on late night television sing, play guitar, and tap a tambourine with his foot all at the same time. I actually don't use it that often...
Keys

This is a keyboard that I "inherited" from a friend. I would not be opposed to learning how to play a little piano music, but as of right now, there's really not much I can play on the keyboard. I have been trying to work out Led Zeppelin's No Quarter, though, and I can do the chords to Sonny Boy Williamson's Help Me Baby a la Ten Years After. This baby's also useful every once in a while when I get into the right mood to fool around with a little music theory.
---