YOU ARE HERE: zharth.net / Zharth's Music Log / Week 37 (Arc Celebration)
---
Zharth's Music Log
Week 37: Arc Celebration
---
Preface: Once upon a time, the rusties (a community of Neil Young fans) redesignated April 1 "Arc Day", in celebration of the 35-minute electric feedback experiment, called Arc, that Neil Young released along with the heavy live album Weld, in 1991. Ever since, Neil Young fans have spent April 1 blaring Arc loud and proud, to the detriment of neighbours everywhere. This week we'll join in the festivities by exploring some harder to find live tracks from Neil's career, in addition to Arc itself.
---
Monday (3/31/08): Neil Young - Last Dance [Time Fades Away, 1973]
Comments: "Wake up, it's a Monday morning!" Time Fades Away is one of those curious live-albums-of-all-new-material-that-doesn't-exist-in-studio-recorded-form. And despite the performances sounding pretty raw, they are very powerful, and it's a shame that this album is still yet to be officially released on CD.
Tuesday (4/01/08): Neil Young - Arc [Arc, 1991]
Comments: Here it is, folks. Play it loud, play it proud, and remember, there's no such thing as "turning it down".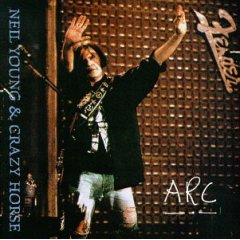 Wednesday (4/02/08): Neil Young - Cowgirl In The Sand [Boston Tea Party, 3/01/70]
Comments: This song remains one of my favorite rock songs of all time. It puts you in a trance, but the energy behind the jamming is so powerful, and the way it continues on and on, with seemingly no end - it's beautiful in its distress. Here we hear an amazing live version from the early days, when the song was still fresh, with Crazy Horse's original guitarist, Danny Whitten, backing up Neil's feverish intensity.
Thursday (4/03/08): Neil Young - Words [Journey Through The Past, 1972]
Comments: From the unreleased Journey Through The Past soundtrack, here is what seems to be a preliminary take on the epic song that, in my own personal opinion, lifts the overrated album Harvest from an acoustic bore-fest to something interesting. This is a fascinating track if you already know the Harvest version of the song.
Friday (4/04/08): Neil Young - Like A Hurricane [Hammersmith Odeon, 3/31/76]
Comments: Here's another one of Neil Young's greatest rock epics, which is just as good live as it was in the studio. When I got the chance to see Neil Young live on the Greendale tour, I was disappointed that he didn't play this song, because before the show, I saw the winged keyboard they use on this song hanging in the rafters. But they never used it. That's okay, though, it was still an amazing show.
Saturday (4/05/08): Neil Young - Love To Burn [Bonnaroo 2003]
Comments: Neil Young introduced two excellent new jams - Love To Burn, and Love And Only Love - on his 1990 album with Crazy Horse, Ragged Glory, as well as the subsequent tour and live album, Weld (which birthed Arc). Here we have the former of those two jams in an even more extended version (20+ minutes!) from the Bonnaroo Festival in 2003. Enjoy!
Sunday (4/06/08): Neil Young - Dangerbird [Greendale NYC, 3/07/04]
Comments: Speaking of the Greendale tour, this track comes from a late (almost one year late) Greendale show that I acquired on DVD at an acclaimed bootleg shop in Tokyo (yes, in Japan). This track is from the "antiques" set following the Greendale performance, and is an awesome overlooked gem from a largely overlooked (except for the track Cortez The Killer) Crazy Horse album from the seventies - Zuma.
---